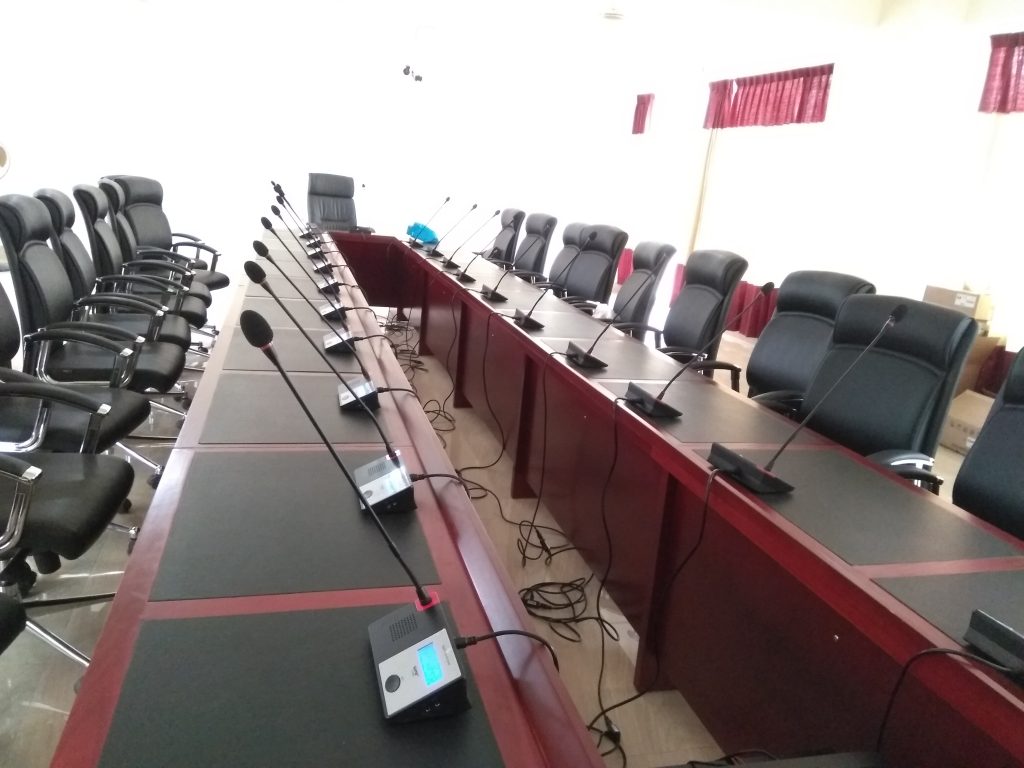 HTDZ Digital Conference System
HT-3002C/D
Digital Conference System Main Unit
HT-6600
Features
1. The main unit of the digital conference system can support 60 units delegate and chairman microphone and can be extended to support 250 units microphone with extension power unit.
2. It is equipped with four groups of 8P-DIN interface for system connecting.
3. It has a built-in monitor loudspeaker.
4. It offers system support discuss mode: Free mode, FIFO mode, FIFO mode (1-9), Limit mode (1-9).
5. The system working mode can display on LCD.
6. It has support video camera auto-track with video processor HT-8008.
7. It offers support voting with voting processor HT-8000.
8. Connection:
9. pcs 13m main cable with 8PIN plugs
10. 8PIN socket for system connection.
11. Designed accordance to ISO and IEC914 standards.
Technical Specification
Model
Central Control Unit HT-6600
Digital Display
Yes
Power Output
120Watt For use Chairman & Delegate Unit
Input
8P- DIN Socket, 3×Mic 0.65mV/4.7kΩ, 1×Aux 100mV/470kΩ
Line Output1
8P- DIN Socket/75dB, 17.5V DC/3A Max.; -34dBV (20mV)
Line Output2
8P- DIN Socket/75dB, 17.5V DC/3A Max.; -34dBV (20mV)
Microphone
>75dB, 390mm
N/S Radio
>75dB
Tone Controls
Bass: -10dB at 100Hz, Treble: -10dB at 10kHz
Preamp Output
200mV/600Ω
Line Output
1V/1kΩ
Send Output
200mV/600Ω
Return Input
200mV/10kΩ
Speaker Output
4Ω, 8Ω, 16Ω, 70V & 100V
Power Requirement
AC: 220-240V, 50/60Hz, DC: 24V (2×12V Car Battery)
Power Consumption
250VA
Protections
AC Fuse 1×3 Amp , DC Fuse 2×10 Amp.
Power Supply
230VAC 50/60Hz
Mir Auto Switch Off Time
Customize /Auto
Frequency Response
20Hz-18KHz
Speaker
Build In Speaker- 10Watt
Weight
11.5kg
Features

1.      The main unit of the digital conference system can support 60 units delegate and chairman microphone and can be extended to support 250 units microphone with extension power unit.

2.      It is equipped with four groups of 8P-DIN interface for system connecting.

3.      It has a built-in monitor loudspeaker.

4.      It offers system support discuss mode: Free mode, FIFO mode, FIFO mode (1-9), Limit mode (1-9).

5.      The system working mode can display on LCD.

6.      It has support video camera auto-track with video processor HT-8008.

7.      It offers support voting with voting processor HT-8000.

8.    Connection:

a.  1 pcs 13m main cable with 8PIN plugs

b.  8PIN socket for system connection.

9. Designed accordance to ISO and IEC914 standards.

Dimensions
 482x90x353

2U -19"

Accessories
1 Connection Cable, 1Extantion Cable, Fuse,
HT-3002 Chairman-Delegate
Digital Conference Microphone Unit
Support discuss and video Built in inner speaker and LCD Chairman with priority button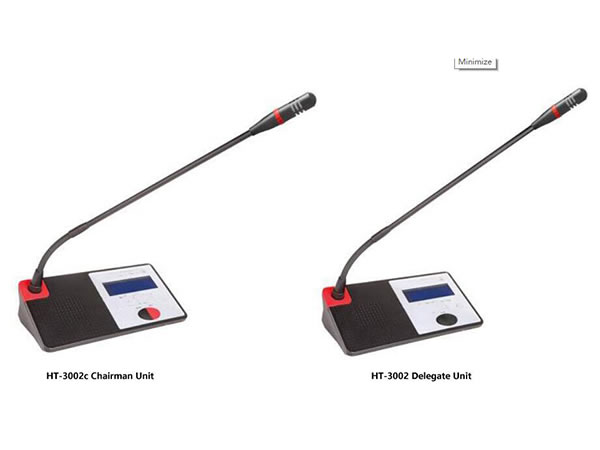 Technical Specification
Model
Chairmen UniteHT-3002C
Delegate Unit HT-3002D
Digital Display
Yes
Yes
Microphone
>75dB, 390mm
>75dB, 390mm
Power Consumption
50mA
50mA
Power Supply
24V DC by 8-PIN Cable
24V DC by 8-PIN Cable
Mir Auto Switch Off Time
Customize /Auto
Customize/Auto
Input
Line-8P
Line-8P
Output
Line-8P, Speaker, Headphone
Line-8P, Speaker, Headphone
Frequency Response
20Hz-18KHz
20Hz-18KHz
Speaker
Build In Speaker- 3Watt
Build In Speaker-3Watt
Control
Priority Switch, Talk Switch, Speaker, volume Control, Headphone Volume Control.
Priority Switch, Talk Switch, Speaker, volume Control, Headphone Volume Control.
Weight
1.15kg
1.15kg
T.D.S
<76dB
<76dB
Accessories
Foam Windshield, 2.5mm Connection Cable.
Foam Windshield, 2.5mm Connection Cable.
Dimensions
Base 205x55x150

Gooseneck 390mm

Base 205x55x150

Gooseneck 390mm