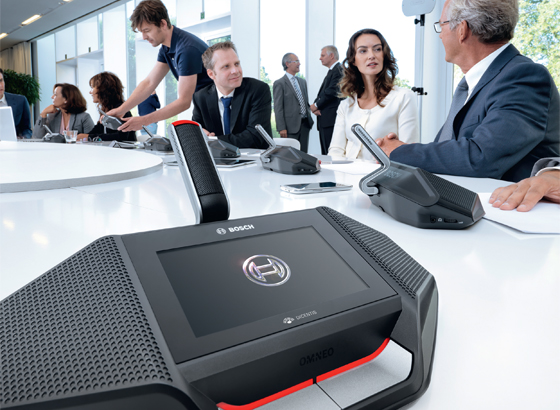 DICENTIS Wireless Conference System
The DICENTIS Wireless Conference System uses standard Wi-Fi and smart wireless management to ensure interference-free and highly flexible wireless conferencing.
Standard Wi-Fi technology for co-existence with other Wi-Fi networks
The system is based on standard Wi-Fi according to the IEEE 802.11n standard, and operates in 2.4 and 5 GHz, meaning that the system is visible in the network, so that other Wi-Fi access points will recognize the DICENTIS Wireless Access Point (WAP) and can avoid using the same channel.
Smart wireless management to ensure interference-free wireless conferencing
Smart Wireless Management allows the system to constantly monitor the availability and load of channels. When traffic increases it seamlessly and automatically switches to free channels, without interruption or interference.
Touch-screen Wireless Devices with built-in Near Field Communication (NFC) reader and possibility for company logo upload
The Wireless Device Extended has a user interface with a 4.3-inch capacitive touch-screen that is designed for fast, intuitive use. A company logo can be uploaded to customize the device, this is an appealing feature for organizations and rental companies. Next to this the device can be upgraded with additional software modules to expand its functionality, for example with voting or identification using NFC card. Furthermore, the user interface supports all standard international characters.
True wireless connectivity for easy control and redundancy
The WAP includes a built-in web browser that enables true wireless configuration and connection without the need for a wireless router, and provides extended functionality and tablet control with easy and intuitive user interface. Two WAPs can be set up to create wireless redundancy and maximize reliable communication and meeting continuity.
OMNEO-ready for future expansion with the DICENTIS Conference system
This innovative conference system is ready for the unique IP-based OMNEO media networking architecture developed by Bosch. With a future software upgrade, the system can be added to DICENTIS Conference and other OMNEO devices.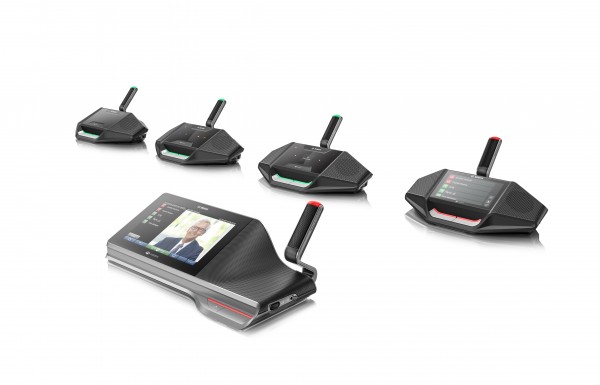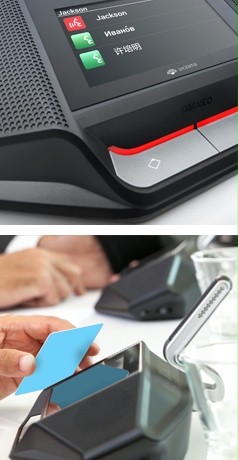 Based on standard Wi-Fi for easy integration and use of standard IT tools, and co-existence with other Wi-Fi networks.
Zero audio interference: Packet Loss Concealment, seamless frequency switching, Smart Wireless Management.
Wireless WAP redundancy for meeting continuity.
Government grade security using WPA2 encryption.
User-friendly operation due to easy and Intuitive Web browser with features like microphone control, visual battery status, visual signal strength, …
OMNEO compatibility for future expansion.
Unique and convenient, software configurable, interchangeable devices: delegate/chairperson and dual discussion with mute function for each participant.
Superb sound and speech quality with a face-to-face meeting experiencedue to intelligent built-in Digital Acoustic Feedback Suppression.
Easy identification via contactless smart card (NFC).
Easy battery management: removable lithium-ion long life battery packs (up to 24 hours) with short charging time.

This new system is perfect for applications in multi-purpose rooms and historical buildings where a flexible wireless solution offers significant advantages.
Perfect for multi-purpose rooms
Conference centers and multi-purpose rooms frequently hold different events, each with different set-ups and configurations.
Due to its high degree of flexibility and ease of installation, the DICENTIS Wireless Conference System is perfect for these kinds of applications. It's easy to set up, remove after use, and re-arrange in another room. This ensures that rooms and equipment can be used in the most profitable and efficient way.
Ideal for historical buildings
The DICENTIS Wireless Conference System can be installed, re-arranged and operated with virtually no impact on the integrity of a historical building. No cables have to be laid or holes drilled. This avoids concerns about damaging the building or ruining the aesthetics of a historically significant venue.
For applications where flexibility is required, the DICENTIS Wireless Conference System is the perfect solution. It is even easy to transport to off-site meetings.